Seating is an important part of many spaces, and tiered seating has become one of the most practical options for seating multiple groups (or a large crowd of people) all at once.
Beyond that, they can have a lot of aesthetic value and provide great benefits over other options.
We can offer a huge range of tiered seating options in Bradford, all suitable for various events.
Why Use Us?
We are the leading modular seating and staging experts in the UK, with over 20 years of experience working for countless clients in vastly different industries in Bradford.
We have designed our staging options to be incredibly versatile, allowing them to function in almost any role – including as the basis for modular seating projects.
Every single stage frame has undergone strict FIRA testing and is certified to BS EN 6399-1:1996 and BS EN 15372:2008 level 2.
Safety is also a massive concern, and our universal lock system provides even more protection overall. We aim for maximum quality with every part of our flat staging, which extends to the modular seating systems we can construct using them.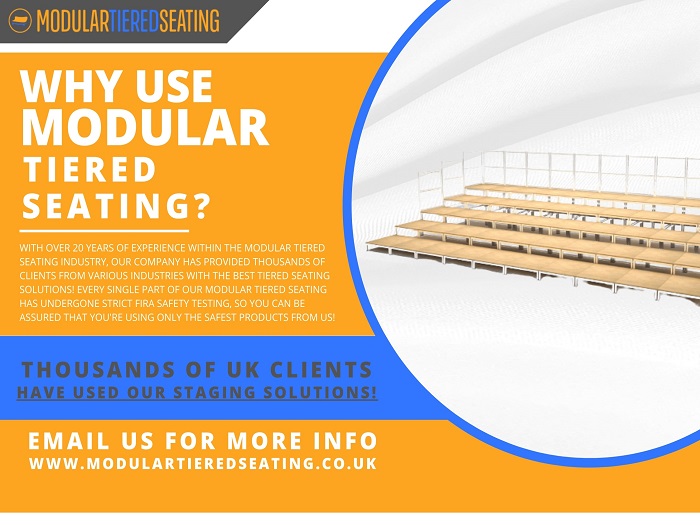 Thanks to our custom design – including sound absorption solution (SAS) – we can offer quiet, comfortable, portable and durable auditorium seating modules that can be arranged in almost any configuration.
We aim to provide some of the best seating and staging on the market in Bradford, regardless of the client we work with.
Member of Made in Britain Scheme:

Features of Our Tiered Seating
Our staging and seating are:
Compact, portable, and easy to stack and store away
Light and simple enough for even a child to assemble
Sturdy, hard-wearing and secure
It can be reconfigured in hundreds of ways
Perfectly flat, with no holes or bungs
No tools are required for assembly/disassembly
It can be stained as required; a reversible carpet finish is also available
Tiered Seating Costs
In most cases, the average cost of tiered seating in West Yorkshire will be around £2,000 to £10,000.
However, remember that modular seating is a very varied niche, and many factors affect price calculations.
The material – The material of the seat stands influences the cost, such as wood and metal costing different amounts.
The size of the stand – The larger you make a stand, the more it will cost, both in terms of material and features like seating security.
The number of tiers – More tiers mean more materials and complexity.
The type of seating – Each type of seating will have specific costs. A stackable unit will not cost the same as a smaller portable seating design, even if the two are very similar.
Location – Whether the seats are indoors or outdoors can impact the overall costs.
Whether it is fixed or portable – Choosing portable or fixed options will give you a vastly different price range.
For sale or hire – Hire options are cheaper in almost all cases but naturally cost more over time than a direct purchase.
If you want a more accurate quote about the costs you can expect – and the options we offer – then contact us directly and talk with our experts to learn more.
Where Is Auditorium Seating Used/Installed?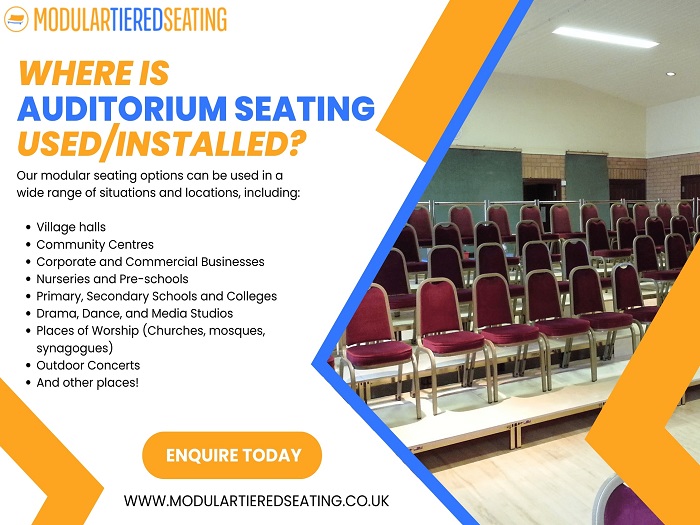 Our modular seating options can be used in a wide range of situations in Bradford, including:
Village halls
Community Centres
Corporate and Commercial Businesses
Nurseries and Pre-schools
Primary, Secondary Schools and Colleges
Drama, Dance, and Media Studios
Places of Worship (Churches, mosques, synagogues)
Outdoor Concerts
Theater Halls
Sports Halls
Sports Clubs
Leisure Centres
Conferences
Meetings
Arena exhibitions
Ceremonies
Tiered Seating for Schools
Tiered seating and seating multiple groups enhance collaborative environments and provide focused meetings or assemblies.
This makes them perfect for schools in West Yorkshire since they can be assembled on-site using standard modules, pass for permanent seating, and easily store away.
These can have a range of floor coverings, such as interface floor covering, made from fabrics, vinyl and leather. A complimentary media unit is available.
Tiered Seating for Churches
Our seating modules are time in church buildings in Bradford. Standard modules provide a nice church aesthetic, adding robustness and seating security.
Whether you use them to hold the choir or seat multiple groups, at the rear of the church, they can be an excellent way to add more seating.
These can be made from various materials, such as birch veneer plywood construction with an interface floor covering. Other coverings include fabrics, vinyl and leather.
You can have bespoke tiering made to fit your nook, alcove or recess; no matter your arena, there is a tiered seating arrangement to suit your bay.
Tiered Seating for Sale
We can provide seating for all kinds of school and workplace projects as a sale option, giving you standard modules that you can use however you please with no rental time limit.
More expensive designs, such as birch veneer plywood construction or units based around leathers (complimentary media unit included), will cost more for sale. There may also be building regulations concerning permanent fixtures in Bradford.
Tiered Seating for Rent
Our comprehensive rental options allow us to offer a lower price for auditorium seating and other high-value seating options.
The higher tier range options are still available, allowing you to rent 3-tiered auditorium seating as office furniture for all workplace projects.
Advantages of Our Tiered Seating Systems?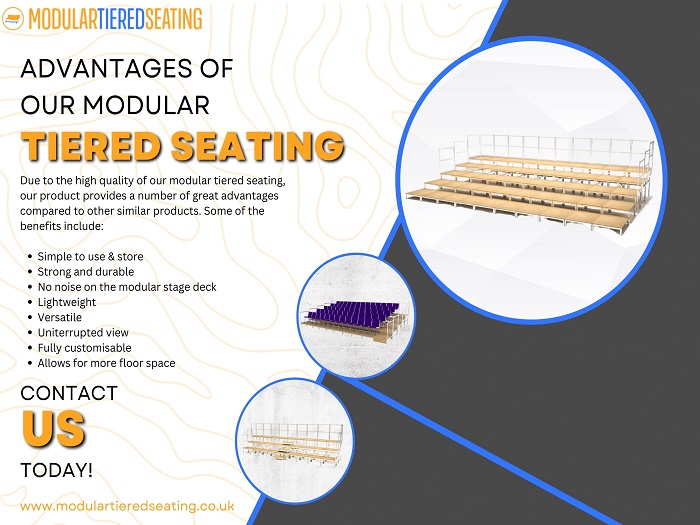 There are many beneficial reasons to use our tiered auditorium seating modules in Bradford: simple storage options, high durability and incredible versatility.
Simple to Use and Store
Our auditorium seating modules use three components, allowing easy construction and storage. These standard models work well when storage is at a premium, all without sacrificing any other benefits in the process.
We offer a wide range of portable staging options, including:
Tiered Seating Plus Module
Our simplest tiered seating modules pass many event requirements for high stability per square meter, adding seating security in Bradford.
Tiered Seating Lite
Our light seating focuses on portability and being easily assembled on-site.
Tiered Seating Pro
The extra durability and strength in these seating options improve load-bearing capacity significantly.
Strong and Durable
We base our tiered auditorium seating modules on robust frames, providing a nice aesthetic and robustness. Each can support around ten fully grown men and is guaranteed against material, manufacture or workmanship faults for ten years.
We offer a huge range of portable auditorium seating modules, all versatile and flexible enough to suit your needs.
Even our standard modules are provided bespoke for each client: hotels, schools, theatres and even local authorities, both within the UK and the rest of the world.
No Noise on the Modular Stage Deck
We design our portable seating to provide silent and smooth support. This means no squeaks or creaks, using a sturdy and solid fill to create a seamless platform assembled on-site.
This not only keeps noise low but provides less disruption in any of the multiple configurations you might use.
Even in a fancy entertainment space with nice floors, chair leathers, complimentary media unit devices and free drinks, you can easily access birch veneer plywood construction that keeps the noise away. This chunky birch ply enhances the aesthetic whilst adding robustness.
Lightweight
It had taken us years to perfect our auditorium seating modules in Bradford. These days, these modules pass as some of the most lightweight on the market, making them ideal for all kinds of home, school or workplace projects thanks to their ease of storage and relocation. We also have not sacrificed any quality to lower the weight.
This portability is important. Each unit fits into a standard lift product, conforms to doorways, and should be easy to move. Making sure it will work with a standard lift product, conforms to doorways and fits into rooms well makes a big difference for this kind of seating.
Versatile
Versatility is a core part of our auditorium seating modules. This does not just mean adding seat cushions to make them office furniture, though – even if seat cushions are a good addition.
It is easy to slip your auditorium seating into multiple configurations, all assembled on-site without tools. This also means that you can work on adding seating security, splitting up seats to create small personal groups, or adding whatever other features and tweaks you need in Bradford.
Features, such as additional assistance, can help individuals step up and off the stage, allowing for safety.
Uninterrupted View
Tiered seating allows you to make users focus forwards, wherever that may be. Our 3-tiered auditorium seating modules provide each row with full visibility – this kind of 3-tier takes inspiration from old seating designs, allowing for focused meetings and engaged audiences in any situation.
Fully Customisable
Our seating is fully customisable. Even the most complex 3-tiered auditorium seating modules can be split to create small personal groups and enhance collaborative environments, adjusted to have all users focus forwards, or constructed as a semicircle for large-scale conference environments.
This does not include adding seat cushions, choosing a unique birch veneer plywood construction, or moving your seating around to create small personal groups instead of one large area.
Allows for More Floor Space
Our tiered auditorium seating modules provide more seating for less floor space, regardless of the multiple configurations you might use.
This means that even large-scale conference environments can make all users focus forwards for focused meetings without taking up the entire conference space – or requiring you to remove other office furniture.
Since each unit fits into a standard lift product, conforms to building regulations and fits into doorways, you can move them to any room without much hassle.
Product Codes
All of our auditorium seating modules in Bradford can be identified by product codes. If you need help finding more of a specific module, such as one with birch veneer plywood construction and an interface floor covering, then our experts can track it down.
Customer Service
We want our auditorium seating in Bradford to be as good as possible, including the customer service behind it. On delivery, our experts will explain how to set up the modules and inspect that the modules are functioning as intended.
We will also show you how to put the units in multiple configurations and how things like interface floor covering work (if relevant).
Our team has a lot of experience in many different fields. We can recommend the best option for your situation, whether birch veneer plywood construction for large-scale conference environments or simple auditorium seating to meet basic building regulations.
Care & Maintenance Recommendations
The seating should be thoroughly washed and cleaned after each use with a damp cloth and mild soapy water (ensure the cleaning agent contains no bleach). Do not fill the staging.
Afterwards, clean the deck thoroughly and let it dry at the end of the day. Remember that usual building regulations still apply with your local authority – if your building regulations require you to take specific safety or fire prevention measures, follow them.
How Can I Store My Tiered Seating?
Our tiered seat sets come with spiral stack shuttles, which can hold up to 24 decks and frames. We keep all of our units modular – chunky birch ply enhances durability, but it should still be just as easily stored.
Seat cushions and full or semi-visual privacy screens can easily be packed separately.
Spiral Storage
With a diameter of 1.07m and a height of up to 2.20m, spiral storage shuttles are ideal for most storage solutions.
In-line Storage
If you need to transport your staging through narrow areas and doorways, you might want to consider an in-line storage shuttle with a width of only 0.90m.
Tiered Seating Design
Most manufacturers of modular staging in Bradford have holes or bungs in the decks. Our unique location mechanism ensures the staging looks more aesthetically pleasing and improves our unrivalled safety features.
The way we handle each tier takes inspiration from Greek theatre architecture. Even so, that does not mean that every tier takes inspiration from Greek theatre architecture design-wise.
A modern design element like a semi-visual privacy screen, or material like a chunky birch ply, enhances the result without copying Greek theatre architecture wholesale.
If you do not have a mezzanine, balcony, box, loggia, oriel, or loge, then tiered modular seating allows you to fit the aesthetic of your space. It allows every audience member to access a good view, no matter where they are.
Modular Staging Accessories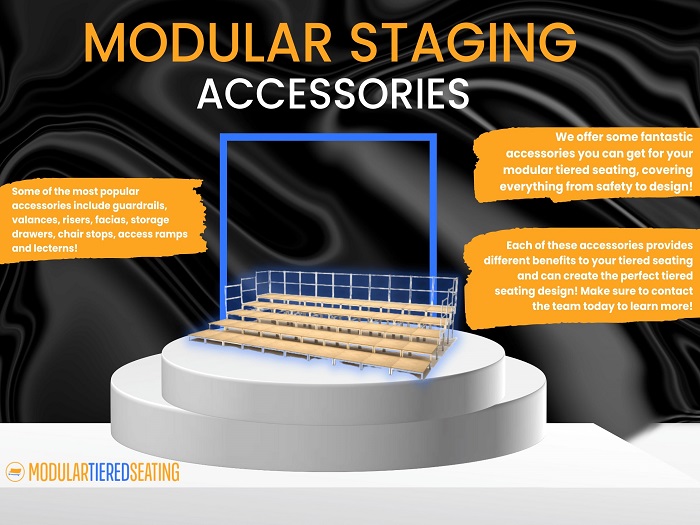 As part of our modular seating installation, we offer a range of accessories, including:
Guardrails
Valances
Risers
Facias
Storage drawers
Chair stops
Access ramps
Lecterns
Get in touch today to receive a copy of our latest brochure and create your bespoke performance platform design in Bradford.
Frequently Asked Questions
Are Grandstand and Bleachers the Same?
Grandstands are tiered seating placed within a stadium, and bleachers are placed outdoors. Both are auditorium seating, usually within a 2-5 tier range.
The most common type is 3-tiered auditorium seating without seat cushions.
What is the Purpose of a Grandstand?
A grandstand's purpose is to allow numerous people to be seated at a sporting event without limiting their view.
This provides semi-visual privacy and allows small personal groups to interact while adding seating security and shelter.
What is Spectator Seating?
Spectator seating is tiered seating used in various events to provide clear viewing angles. These can be within any tier range.
How Much Weight Can Your Tiered Seating Handle?
A single Frame (@540mm height) is tested up to 675kg – Around ten grown adults on average.
What is the Estimated Delivery Time?
Standard items can usually be delivered in 3-4 weeks. Bespoke items can usually be dispatched in 8 weeks.
Do You Ship Internationally?
We can ship our products to most locations in Bradford. Please get in touch today for more information.
Can the Tiered Seating be Placed Outside?
Yes, tiered seating can be fixed outside on your lawn or parterre; our team will talk you through how to maintain your seating if you choose to use it outside.
Get in Touch
We have a huge range of different seating options to choose from. Whether you want something that you can move in a standard lift product, conforms to a particular aesthetic or fills a purely practical role, we will find something that suits your needs.
Talk to our experts to learn more about what we can offer and the kind of seating we can provide based on your bespoke needs.
Find More Info
Contact us today for several great modular tiered seating in Bradford.
What Others Say About Our Services
We absolutely love the service provided. Their approach is really friendly but professional. We went out to five different companies and found Modular Tiered Seating to be value for money and their service was by far the best. Thank you for your really awesome work, we will definitely be returning!
Tom Hunter
West Yorkshire
We have used Modular Tiered Seating for many years as they are certainly the best in the UK. The attention to detail and professional setup is what makes this company our go-to company for all our work. I highly recommend the team for the immense work - we highly recommend them!
William Porter
West Yorkshire
For more information on modular tiered seating, fill in the contact form below to receive a free quote today.